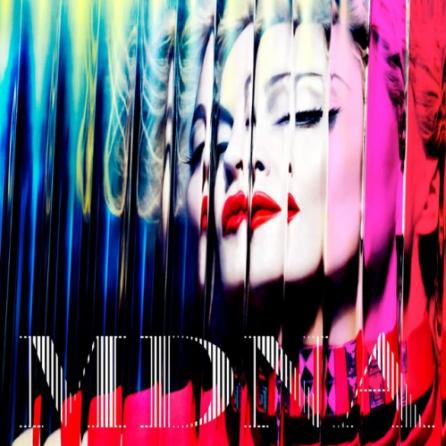 by Rocco Papa
SC Staff Writer
It has been four years since Madonna released a full album of new material. In 2008, Madonna's Hard Candy album found her in familiar territory. On the 1994 Bedtime Stories album, Madonna collaborated with the popular hit-makers to create a very mainstream album. She did the same with Hard Candy. Working with chart-toppers—like Justin Timberlake, Pharrell Williams, and Timbaland—Madonna seemed to be sharing the spotlight with these other talents; it wasn't just a Madonna album, but a Madonna album with Justin Timberlake, Pharrell Williams, and Timbaland.
I have always believed Madonna has done her best work when she is the center of attention. This usually occurs when she works with underground producers and musicians who aren't well-known in the mainstream. She creates magic with these producers. She created magic with Stephen Bray and Patrick Leonard on albums like True Blue. She created magic with Shep Pettibone on the Erotica album and her song "Vogue." She created magic with William Orbit on "Ray of Light." She created magic with Stuart Price on Confessions on a Dance Floor. This was when Madonna truly shined. It was time for her to get back to doing what she does best.
So, needless to say, I was beyond excited when I heard she began recording her new album on the fourth of July last year. Her manager, Guy Oseary, had revealed this tidbit on his Twitter account last year and fans began speculating about Madonna's new direction. She was rumored to be working with William Orbit again, and a new face had joined the mix—DJ Martin Solveig. Fans, including myself, were excited about what Madonna had in store for us in 2012. For the past three years, she had been working on her film, W.E. So, music seemed to be a welcome change of pace.
1. "Girl Gone Wild" – This is the album's second single and serves as the opening track. Starting with "Act of Contrition," Madonna begins this album where "Like a Prayer" ended. The theme of good versus bad continues throughout the album, so it's a brilliant way to start the album. The song itself is a dance-pop masterpiece that was produced by Benny Benassi, who did a killer remix for Madonna's 2009 single, "Celebration." It will get stuck in your head thanks to its catchy chorus.
2. "Gang Bang" – The album's second track takes the "wild" description to a whole new extreme. It's not an ode to kinky sex like the title suggests. Rather, it's a dark and violent journey that follows a character that is out for revenge on an abusive lover. "Bang, bang/Shot you dead/Shot my lover in the head," Madonna sings. It feels like it could've been the theme song to the film, Kill Bill. It's a bit strange, but the song is thought-provoking. When one looks at it, it's clear that the vengeful lover still has feelings for the one who betrayed her. There's a difference between hatred and indifference.
3. "I'm Addicted" – This is where the album got its title. It's your typical dance track that finds Madonna singing to someone whose love she's addicted to. "It's like MDMA and that's okay," sings Madonna. The album title is an acronym for her name and a play on the drug, MDMA, more commonly called ecstasy. The song's breakdown is a highlight of the track, coming after Madonna proclaims, "I need to dance!"
4. "Turn Up The Radio" – The first Madonna/Solveig production to appear on the album, it has a classic feel and contains elements of real disco. The catchy and infectious tune is one I hope Madonna considers for future single releases. It would be great to see what kind of music video she does for this song.
5. "Give Me All Your Luvin'" (Feat. Nicki Minaj & M.I.A.) – This song was released as the album's first single and used as buzz for Madonna's acclaimed Super Bowl Halftime Show performance. It has a cheerleader chant and a sixties-pop retro feel that makes it a throwback. Overall, it's probably the lightest song on the whole album.
6. "Some Girls" – Madonna teamed up with William Orbit on this particular tune that plays with Madonna's vocals. The electronic alteration of her vocals makes you wonder if it's really her singing. It also references her 1989 hit, "Express Yourself." In the song, Madonna declares, "Some girls are not like me."
7. "Superstar" – Fun fact: Madonna's daughter, Lola, sings background vocals on this track. It is a cheery, fun, happy tune that finds Madonna comparing her love interests to icons like John Travolta and James Dean. This is another great choice for a future single.
8. "I Don't Give A" (Feat. Nicki Minaj) – This is my personal favorite track on the album. Madonna directly talks about her life as a working single mother of four kids. It also explicitly describes her broken marriage, claiming, "I tried to be a good girl/I tried to be your wife/Diminished myself/And swallowed my light/I tried to become all/That you expect of me/And if it was a failure/I don't give a." Minaj's rap praises Madonna, saying, "There's only one Queen and that's Madonna." They don't call her Madge for nothing.
9. "I'm A Sinner" – Another electronic dance production that has lyrics pushing the envelope—something that has always come naturally to Madonna. The track continues the album's theme of good versus bad while making references to Catholicism. "I'm a sinner; I like it that way," Madonna sings.
10. "Love Spent" – This song's introduction soon kicks into an infectious dance beat with lyrics referring to a divorce. "Would you have married me if I were poor?" is one of the questions this song asks as it takes a melancholy look into a broken union that began for all the wrong reasons.
11. "Masterpiece" – This song premiered late last year and was the first taste the public got of the album. It's the theme to Madonna's directorial feature, W.E. and won the Golden Globe earlier this year for Best Original Song. It's the first ballad on the album and describes the pain of loving someone like a work of art.
12. "Falling Free" – A brilliant end to the album's first disc, this is the most stripped down ballad Madonna has done in a long time. Madonna's vocal is the only vocal included on the song and an extended instrumental section takes the listener to another world. Incredibly self-reflective and thought-provoking lyrics don't hurt, either.
13. "Beautiful Killer" – Many saw this song as a sequel to Madonna's 1999 hit, "Beautiful Stranger." While that might be reaching a bit, it's understandable. The fact is this track is a mid-tempo that takes the falling-for-a-bad-boy story a bit further. With explicit references to guns and shooting, one wonders if those are merely sexual innuendos or the real thing.
14. "I F***ed Up" – Another bonus track that finds Madonna reflecting on a past relationship that has come to an end. It has an upbeat rhythm with sad, reflective lyrics that don't put blame on anybody but Madonna herself. This seems to be a good way of answering the album's good versus bad question by stating we all make mistakes; there's good and bad in all of us. All we can do is forgive ourselves and keep going. Towards the end, Madonna sings, "I wish I could have you back/Maybe one day." Listen closely to hear her finish that sentence by saying, "Or not."
15. "B-Day Song" (Feat. M.I.A.) – This track was previewed in Madonna's 20/20 interview earlier this year, on ABC. The great irony is that this album came out the day before my birthday. I bought the deluxe edition for myself as a birthday present. Avoiding the leaks prior to the release date, I made sure my own birthday was the first time I experienced this song. Needless to say, I loved it. It was the perfect birthday moment for a long-time Madonna fan.
16. "Best Friend" – The album's last track is another reflective song about a relationship that is no longer. In the majority of the album's love songs, it's clear that Madonna has been influenced by the downsides it brings. The song's rhythm and production are pretty upbeat, however, creating a good contrast that takes the listener on an emotional rollercoaster.
Overall, the album has something for everybody: high energy dance tracks, reflective introspection, romantic love songs, and anger for times when we need to vent. The album is further proof that Madonna's work remains just as outstanding today as it did when her career began thirty years ago. It is a personal record that finds Madonna writing and singing about her life experience. With the intrusive media of today, it takes guts to be so artistically open about your personal life. I'm guessing most other artists would leave those tracks off their record for the sake of avoiding media speculation. But, Madonna has never been one to play by the rules or give into oppression. She takes risks, she provokes, and she endures the way very few of her contemporaries have. She is The Queen, and her new album MDNA is well worth a listen.
Email Rocco at:
rpapa@live.esu.edu